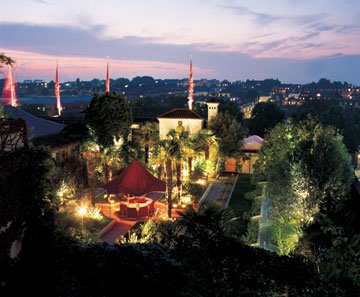 The Roof Gardens
Urban Oasis
Alain Hochereau, June 22, 2006
It is often said that to appreciate a city's beauty, one has to use one's nose. This is particularly true in London, where only those with noses in-the-know are capable of sniffing out a unique urban oasis: the magical Roof Gardens.
A dream is born
More than 30 m above the ground, at the top of an Art Deco Derry & Toms building that now houses the BHS store, lie the largest hanging gardens in London, covering some 19,812 m2 (65,000sq. ft.).

The Kensington High Street structure, built in 1932, originally held one of the Empire's largest stores, John Barker & Co. Ltd. Trevor Bowen, vice-president at the time, cherished the idea of a garden in the air. Landscape architect Ralph Hancock helped him make this "preposterous" dream come true. From 1936 to 1938 Hancock created three themed gardens. He brought in some 500 varieties of plants and shrubs and planted them in 45.7 cm (18 inches) of soil, much deeper than the standard depth for roof gardens at that time. He even went so far as to import stones from Pennsylvania to incorporate into his designs. In the forties, 15,000 bulbs were bought and 38,000 plants were grown in on-site greenhouses and transplanted annually. When transplantation came to be considered ecologically unsound (permanent plantings were preferred) the greenhouses were demolished. Nevertheless, 3,000 spring bulbs, including narcissus, crocus, scilla, and tulips, are still planted annually.