The 2008 Governor General's Medals in Architecture
And the winners are…
Donna Balkan + Sylvie Powell, May 19, 2008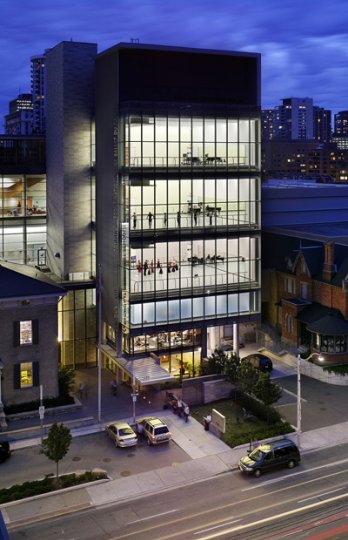 Canada's National Ballet School Project Grand Jeté_Kuwabara Payne McKenna Blumberg Architects & Goldsmith Borgal & Company Ltd. Architects, Architects in Joint Venture (Toronto, ON)_Tom Arban
Kuwabara Payne McKenna Blumberg Architects & Goldsmith Borgal & Company Ltd. Architects, Architects in Joint Venture (Toronto, ON)
 Lead Design Architects Bruce Kuwabara, FRAIC and
Phil Goldsmith, MRAIC
Canada's National Ballet School Project Grand Jeté
The new training centre for Canada's National Ballet School creates a vertical campus of three transparent elements composed around a historic residence. The concept fuses architecture, dance, and movement within a series of stacked, horizontal platforms (stages) to bring the spectacle of dance to the city. The thoughtful refinement of all elements, from the grand volumes of the studios to the customized ballet barres, reflects the School's vision to cultivate innovation. As a model for the harmonious co-existence of heritage and contemporary architecture, the design offers a metaphorical resolution of the dilemma of contemporary ballet to both preserve and challenge its art form.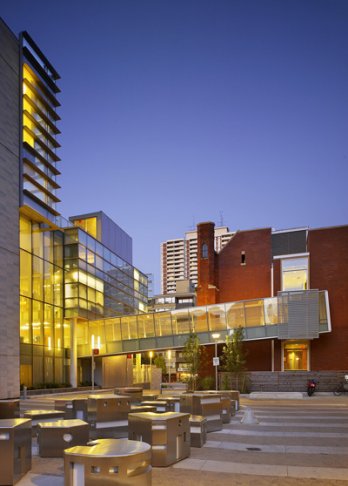 Canada's National Ballet School Project Grand Jeté_Kuwabara Payne McKenna Blumberg Architects & Goldsmith Borgal & Company Ltd. Architects, Architects in Joint Venture (Toronto, ON)_Tom Arban
Le Groupe Arcop (Montreal, QC)
Lead Design Architect: Ramesh Khosla, FRAIC
Jaypee Institute of Information Technology
Jaypee Institute of Information Technology is a simple compact campus. The campus design criteria emerged from three scarce commodities in India, inordinate development trends, scarce land, expensive energy and low finances. The campus creates a value for their owners and establishes enduring physical assets that optimize life cycle costs. The special aesthetic of the campus is the residue that is left after you have walked through the spaces, a sense that you have been in a special place and some of its enthrallment has pattered on you. ARCOP has gathered a lot of experience working on the subcontinent and feels at home dealing with high end as well as very economic buildings.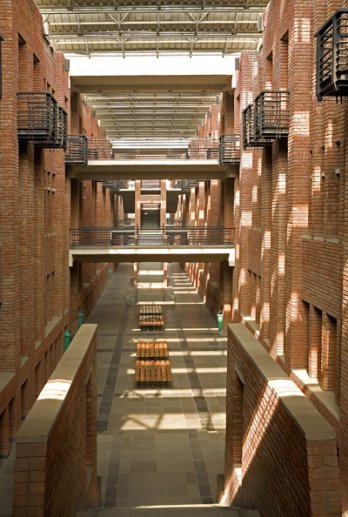 Jaypee Institute of Information Technology_Le Groupe Arcop (Montreal, QC)_Eye Piece Photography & Design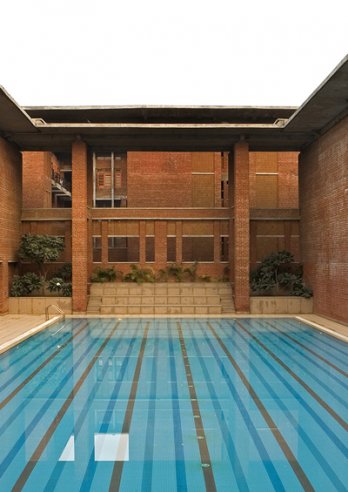 Jaypee Institute of Information Technology_Le Groupe Arcop (Montreal, QC)_Eye Piece Photography & Design