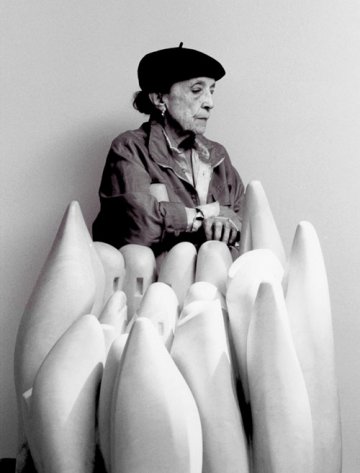 Louise Bourgeois in Canada...
Sculptor of timeless sculpture
MLB, December 26, 2011
National Gallery of Canada exhibition (through March 18, 2012) pays tribute to one of the past century's most remarkable creative minds.


The remarkable artistic career of Louise Bourgeois, who passed away in May 2010 at the age of 98, is presented in the National Gallery of Canada (NGC). The Gallery pays tribute to the French-born, American artist, who is best known in Ottawa for her majestic bronze spider Maman that greets visitors on the museum's plaza and whose work the NGC has been collecting for nearly two decades.
Louise Bourgeois 1911-2010
offers the opportunity for viewers to admire more than twenty important sculptures and drawings by the artist created between 1949 and 2008 and on view in the Contemporary Art galleries.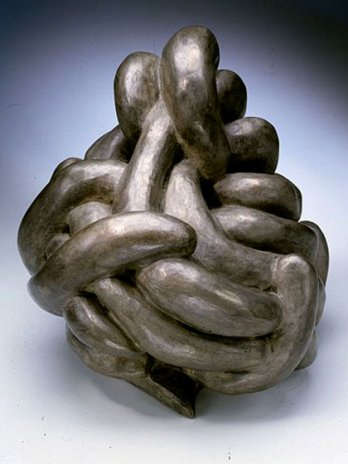 Louise Bourgeois_Clutching_1992
"My name is Louise Joséphine Bourgeois. I was born in Paris on December 25, 1911. All my work over the last 50 years and all its themes have their source in my childhood." "My childhood has never lost its magic, it has never lost its mystery and drama."
Louise Bourgeois_Spiral, 1994_Beth Phillips
"Louise Bourgeois is a major figure of our era,"
said NGC director Marc Mayer.
"This exhibition will give our visitors the opportunity to explore some of the aesthetic preoccupations of this brilliant artist. We are grateful to the generosity of the Louise Bourgeois Trust for their loans of highly significant sculptures, which date back to the beginning of her career as well as some magnificent last works."
Louise Bourgeois' extraordinary career influenced many of the 20
th
-century's major movements in art and culture, from surrealism to abstract expressionism, minimalism and conceptualism to feminism. The presentation is inspired by Bourgeois' first solo show at New York's Peridot Gallery in 1949, which intimately showcased the artist's totem-like Personage sculptures in small domestically-scaled rooms. Louise Bourgeois 1911-2010 brings together 18 works loaned by the Louise Bourgeois Trust and five major pieces from the NGC collection. The installation begins with the sculptor's famous wooden Personages, carved in memory of family and friends Bourgeois left behind as she immigrated to New York in 1938 with her husband, the late art historian Robert Goldwater. One of the most famous of these sculptures, Portrait of C.Y. (1947-49), is in the Gallery's collection. In the final section of the presentation are a selection of dramatic late gouache on paper drawings and six bronze sculptures of clothing called from Bourgeois' "Echo" series that recall the sentiment of the artist's much earlier pieces. In B105 is Cell (The Last Climb), a reverential late work acquired by the NGC in 2010 that movingly reflects on the life of one of the twentieth century's most significant creative figures.