Urbanopolis
What is the future of our urban planet?
Serge Poulin, March 3, 2008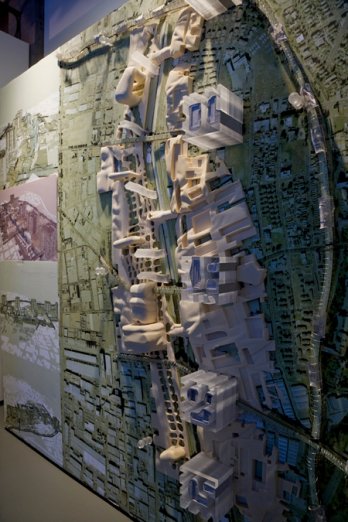 Urbanopolis_Los Angeles in 100 years_Idra Labrie
Cities in the future?
In the final section, the exhibition looks at urban utopias of the future and how we imagine and envision the cities of tomorrow. It addresses the crucial issues of climate and technological change. Here, models simulating how New York, Chicago, Los Angeles, and Québec City will look 100 years from now point to major changes ahead. The model of Québec City was produced by a team of students from the Université Laval Master's program in architecture that won the "Quebec in 100 Years competition". All around, circular projections on the walls depict how future cities have been envisaged and idealized at different periods in history, translating our desires and fears for tomorrow. And at the very end, we find the words of the Brazilian architect Jaime Lerner:
"A city is a collective dream. To build this dream is vital."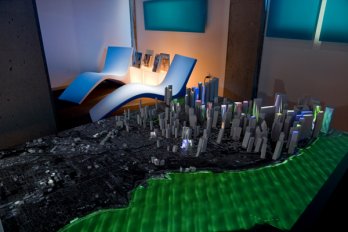 Urbanopolis_Quebec in 100 years_Idra Labrie
A fresh and dynamic design
Images and light play a key role in this exhibition, with its remarkable interplay of large-scale visuals, small and large-screen projections, and display modules designed to evoke urban cityscapes. Movement, sound effects, and the cycle of day and night further contribute to the urban feel and atmosphere, and historic vignettes and relevant anecdotes help complete the visitor experience.
Urbanopolis
is a meaningful reflection on the important issues that will define our urban future.
At Musée de la civilisation through April 19, 2009

www.mcq.org