Urbanopolis
What is the future of our urban planet?
Serge Poulin, March 3, 2008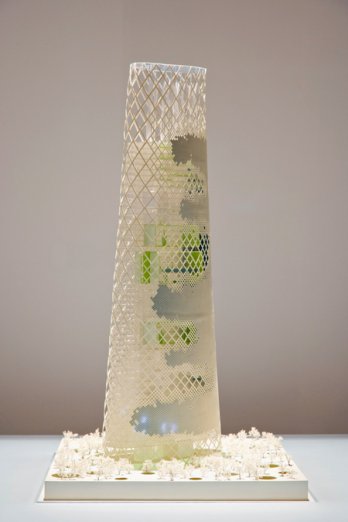 Urbanopolis_Hypergreen_Jacques Ferrier Architecture, 2002
The exhibition is divided into three main themes, each showcased in a way that is fresh, lively, and resolutely modern. The exhibition's interactive features and design (audiovisual, sound and light) are the work of technology wizard Philippe Jean and multidisciplinary artist Bernard White.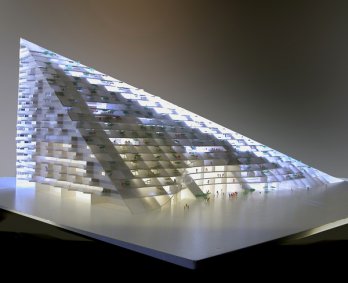 Urbanopolis_Little Denmark_Bjarke Ingels Group_BIG, 2004
Cities in motion
Right from the start, the tone is set! Visitors enter the exhibition through a corridor that evokes urban flux and interconnectedness. A gigantic mural asks questions on the impact of urban growth, urban populations, the needs of cities in the future, and what tomorrow holds in store for urban societies and our urban planet. Then comes a multimedia tramway where the themes of urban transport and future mobility are explored. A little further on, an interactive bus shelter allows visitors to animate their surroundings with large-scale images of urbanites coming and going at typical city meeting places and public spaces. This space also features models of the Ford Volante Tri-Athodyne (1961), an air cushion vehicle of the future (circa 1935), the Bombardier Embrio electric monocycle (2003), and Massachusetts Institute of Technology's concept City Car (2007).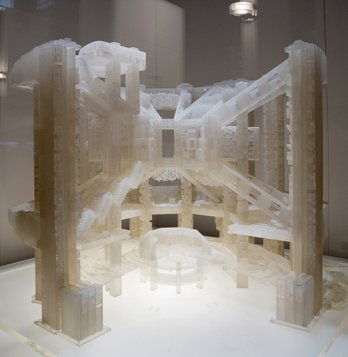 Urbanopolis_Babel Canyon_Paolo Soleri, 1969_Consenti Foundation
Cities reinventing themselves
The next zone evokes an urban theater with a backdrop of streets and monochromatic buildings where day cycles into night against the lights and sounds of the city. Here, a collection of carefully selected large-scale models (Little Denmark, Babel Canyon, One-North in Singapore, Barnsley in England, the Hypergreen Tower, and Garbage City) serve as a pretext for examining the changing urban environment, urban planning and innovation, new trends in urban design, energy efficiency, new technologies, and sustainable, ecofriendly solutions for cities. A mural depicting a building with numerous windows hints at the more private human dimension of cities. Right next to it is a resolutely green space with two interactive models. The first provides an opportunity to explore the impact of geography on city shapes and design, and the second allows visitors to play with city forms to try to resolve infrastructure and network challenges.