Urbanopolis
What is the future of our urban planet?
Serge Poulin, March 3, 2008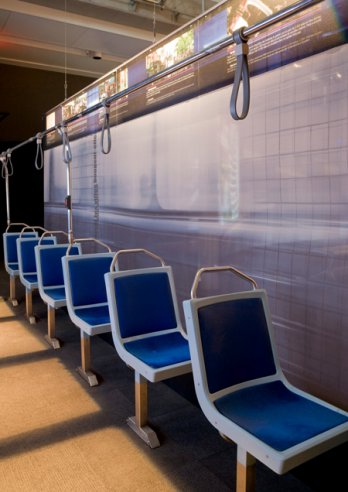 Urbanopolis_Tramways_Idra Labrie
Rethinking the city for Québec's 400th anniversary
"Québec City's 400th anniversary is a marvellous opportunity to reflect upon what lies ahead for today's urban societies. And who better than Musée de la civilisation to help the public imagine cities in the 21st century? Four hundred years after Samuel de Champlain, the city that he founded marches on. It is up to us to pursue the dream, and to understand the challenges facing our increasingly urbanized planet," explained Musée de la civilisation executive director Claire Simard. "We have taken a look at the city from a borderless perspective. To showcase contemporary urban realities, we turned to young local talents. Using images and light, they have designed a bold environment that evokes the vibrancy and dynamism of urban life,"
concluded Ms. Simard.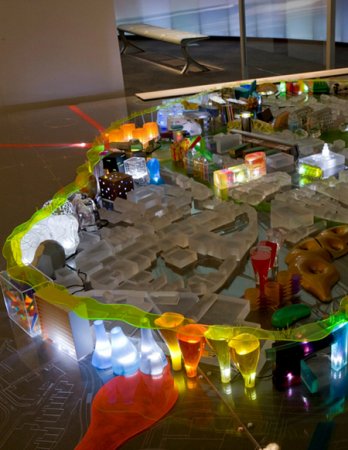 Urbanopolis_Maquette_Rethinking Barnsley_Will Aslop, Architecture, 2002_Idra Labrie
Cities: A place where anything is possible!
Throughout history, the evolution of urban societies has been driven by human creativity. Across the Americas, Europe, Asia, Africa, and Oceania - whether in Jericho, Athens, Rome, Jerusalem, New York, Cairo, Mumbai, Mexico, Shanghai, London, Rome, Seoul, Sao Paulo, or Québec - cities past and present have always been and always will be works in progress, ongoing endeavors in a perpetual process of construction, visualization, and reinvention. Symbols of hope for humankind, they inspire passions and raise major challenges for the 21
st
century.
Urbanopolis
provides an opportunity to discover the myriad ties that link city dwellers to their urban environment. This interdependence is a unifying theme running throughout the exhibition.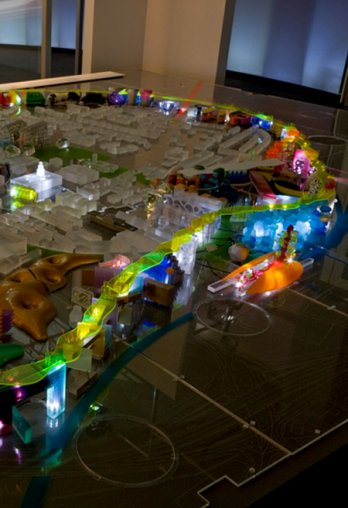 Urbanopolis_Maquette_Rethinking Barnsley_Will Aslop, Architecture, 2002_Idra Labrie