Glenn Ligon
I Am A Man
Wayne Baerwaldt + Thelma Golden, February 11, 2008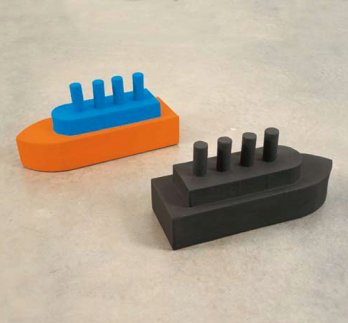 Glenn Ligon_The Story of The Orange and The Black Boats, 2003
Copeland and English plot the necessary of intentional inconsistencies of his production as a painter and mixed-media artist, as well as the incongruities of his liberal upbringing. English's biographical notes describe Ligon's early sense of otherness growing up black and poor in the Bronx, and his path of social integration, which are reflected in Ligon's artistic investigation. Each author brings forward the contradictions of an artist who has invested considerable energy in questioning what is essential to his artmaking by asking himself, "What isn't possible ?" It is a loaded question that does not come as neatly packaged as might be (mis)read in a modernist's reductive process, which invariably culminates in an endgame of surface qualities.
Mark Nash and Wayne Koestenbaum reflect on selected works that exemplify Ligon's ongoing process of revisioning by pulling apart and probing the layered complexities of race, sexuality and representation. As English and Copeland also note, this revisioning process continues to unfold in myriad ways, from one generation of artists to the next, and in various media. Using an example of Ligon's exploration of other media, Mark Nash provides an analysis of The Orange and the Blue Feelings, Ligon's video installation focused on an encounter between a client (Ligon) and a therapist. In the video Ligon and the therapist discuss issues associated with creativity and being gay, but the video installation format itself, as it relates to Ligon's oeuvre, also becomes the object of analysis by Nash. Koesenbaum's "Color me Glenn" critiques the artist's production of paintings realized, in part, with the creative assistance of schoolchildren between the ages of four and eight.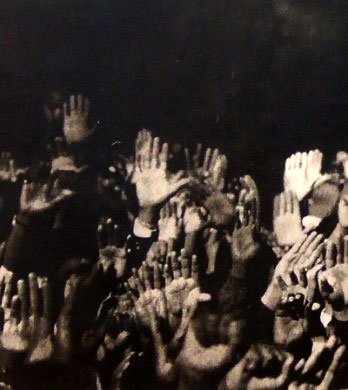 Glenn Ligon_Artwork
Through the Walker Art Center's educational outreach department, Ligon organized coloring sessions with Minneapolis/St. Paul children who were asked to apply crayons to a range of 1960s coloring-book images that in their day sought to reaffirm an emerging, contemporary black culture. By coloring in offset reproductions of period images (of, for instance, Malcom X) the students produced a new twist on the iconic images of identity that circulated in the 1960s and into the '70s. From this body of children's work Ligon appropriated selected pieces (The Letter C, Dad, Frederick Douglass) to be reformatted and enlarged as paintings. The Coloring investigation is a rare and and unique abstactive process that begins with the impartiality of a child's eye, a color blindness that, in Ligon's hands, reveals surprising coherence, penetration, lucidity and (above all) a challenge to one's preconceptions of an era of public consumption of black culture.
As a part of the public programming for this exhibition, a group of Toronto-region four-toeight- year-olds were given the opportunity, in May of 2005, to "revision" the red-and-white national flag of Canada as well as the stars and stripes of the Unites States. Participants were asked to use their imaginations to color in the outline of each flag. Needless to say, the inspired coloring of both icons produced markedly different results from one child's imagination to another.
Glenn Ligon's work was included in Documenta XI in Kassel (2002), the São Paolo Biennale in 1998 and the Venice Biennale in 1997. He has had several solo shows including those at the Walker Art Center in Minneapolis (2000), San Francisco Museum of Modern Art (1996) and the Hirshhorn Museum in Washington (1993).