Glenn Ligon
I Am A Man
Wayne Baerwaldt + Thelma Golden, February 11, 2008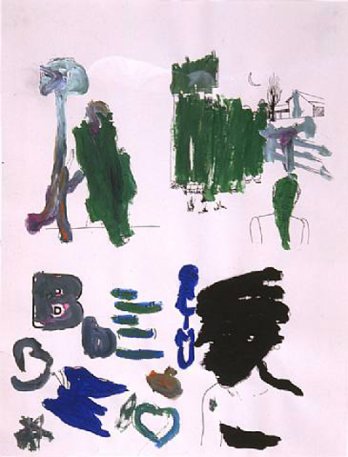 Glenn Ligon_Boys with Basketball, 2001
Ligon repeatedly engages subject matter that pulls historically specific literary narrative into contemporary focus by asking viewers to revisit, for example, influential texts by American authors such as James Baldwin, Zora Neale Hurston and Ralph Ellison, resulting in text paintings that are politically and racially charged personal statements. In particular, Zora Neale Hurston's words from 1928 stand out: "I feel most colored when I am thrown against a sharp white background." Ligon thus adopts the single individual voice and body - the implied autobiographical voice and body - to stand in for the collective voice of generations. This approach challenges in every way the assumptions of a mainstream white culture that seeks to define and mold reality. To comprehend the personal voice as social force in Ligon's paintings, one must decipher his entwined working processes, reading and rereading these nuanced works with shifting conceptual parameters in mind.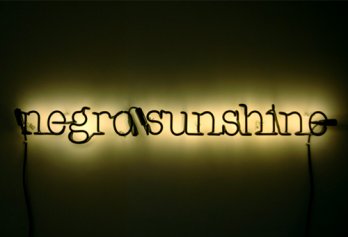 Glenn Ligon_Negro Sunshine
As a curator, one is often asked by artists to "read" or interpret their work with particular consideration given to aesthetic guidelines - a selfdefined vocabulary for appreciating the artwork. This process of "reading" creates conditions that may encompass artistic and historical precedents, and the relation of form to materials (technique), but rarely addresses the amending of vocabularies to contextualize the impact of technology (i.e., photographic snapshots, video, television) on perception. On the most basic level of engagement with abstract paintings, for example, one may examine the nature of reality in the relation of figurative to abstract forms and subjects.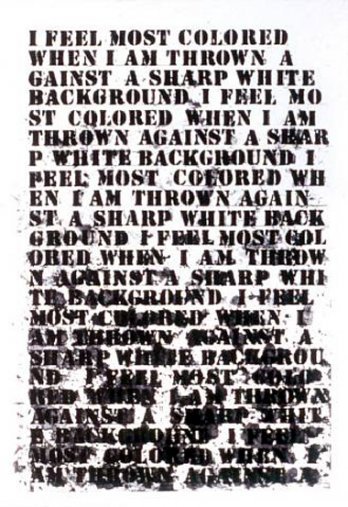 Glenn Ligon_Artwork
The influential American abstract expressionist painter Adolf Gottlieb once said, "
To my mind certain so-called abstraction is not abstraction at all. On the contrary, it is the realism of our time 1."
In many ways this sense of realism as a fluid, constantly redefining perspective, informs Ligon's idiosyncratic approach to painting and facilitates his shifts between media. His is an abstract investigation of ideas, not all of which can be examined and digested in one medium. It is also a process that opens up possibilities for accommodating style, content, media, and other concerns that then return to the personal freedom of painting.