Glenn Ligon
I Am A Man
Wayne Baerwaldt + Thelma Golden, February 11, 2008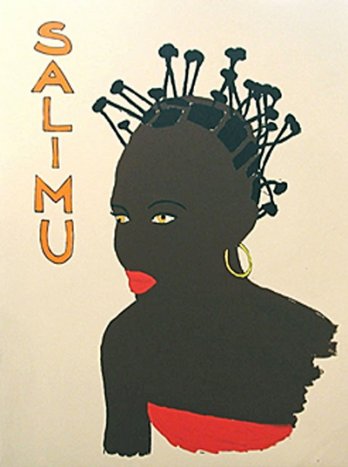 Glenn Ligon_Salimu, 2001
Each painting is intensely complex : in form, materials and subject matter, and collectively, as part of an ongoing body of work. Ligon's process of "revisioning" enriches the work and facilitates a dynamic meditation. It is a deliberately circuitous artmaking process whose forms and subject matter double back on themselves, re-informed and re-energized. It is also a self-reflective artmaking that engages a variety of forms, including moving images, installations, found photographs, large-scale photo transfers and other media and techniques. Each foray into another medium triggers a reaction in Ligon's painting, providing unsettling reminders that modernist practice can remain open-ended and receptive to new information without abandoning its dual ideals of universality and timelessness.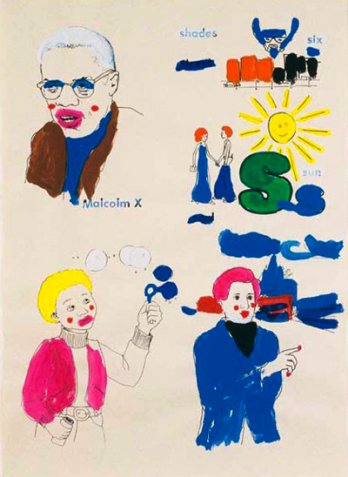 Glenn Ligon_Malcolm X, Sun, Frederick Douglas, Boys with Bubbles, 2001
Ligon's strategies are further complicated by the way his artistic concerns are maligned by a dominant white culture that often sees as less legitimate work that falls outside prescribed or authorized subjects for art making. The mantra of "authorized" subjects would include issues such as North American race relations in the twentieth century, lingering questions of black identity, the shifting applications of language to acknowledge or subordinate such questions, and the quest to authenticate the voice of one's own race. Ligon applies and manipulates these prescribed subjects (but also sexuality, class, gender and other identities) within an inconclusive, abstract form of painting that still sustains a connection to the realities embodied within his sources. This sense of a pervasive, gritty reality underlying his repetition and manipulation of the appropriated material sustains another, more emotional reading of Ligon's textbased work, one that evokes both inspiration and despair.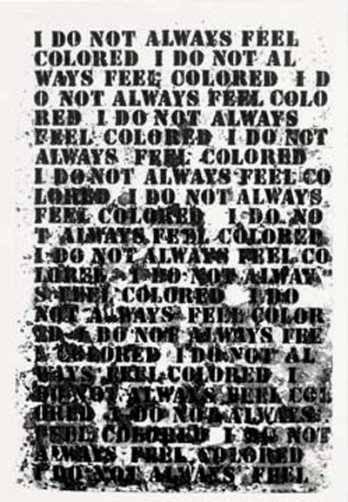 Glenn Ligon_Four Etchings, 1992
Ligon's consistent and meticulously considered world-view is deeply concerned with the practical politics of how the personal voice can speak for the experience of many. What is unique in Ligon's work is his ability to shift visual and literary meaning, by making personal the exploration of what may be considered historically weighted texts and images. His appropriated narrative forms and literary subject matter, for example, can be both personal and enduring. It is an interdisciplinary, intergenerational approach to a visual-literary reading of black identity through the zoom lens of twentieth-century African-American culture.