Glenn Ligon
I Am A Man
Wayne Baerwaldt + Thelma Golden, February 11, 2008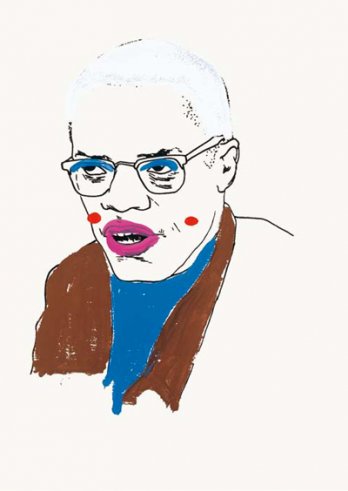 Glenn Ligon_Malcolm X, 2005
Ligon's choice of colour is a pedagogical one. Most of his pieces do not shine in bright colours. They are kept dark, monochrome. This can be interpreted as a statement, as bright, vivid colours are often associated with gaiety, happiness and sometimes vulgarity. But colour has not disappeared completely in Ligon's work; his iconic portrait of Malcolm X is a proof of that. This masterpiece resulted out of a very special collaboration with a group of young school kids. The idea behind this project was to give children old images of famous black people, that they would need to colour. After that the artist himself would work on the pupil's ideas. Putting lipstick on Malcolm X, is a courageous step, but it is also a cut: a new age of understanding and representation has started; nothing is stable, identity and recognition are floating concepts.
Glenn Ligon_Boy on Tire, 2005
A make-uped Malcolm X defies ordinary categories of belief. It scrutinizes a certain attitude towards race and historical positioning. This painting illustrates Ligon's idea that everything is a patchwork: things evolve, mentalities change and new allusions are born. Objects as well as persons can be perceived in different ways. Like Ralph Ellison, the famous American author of The Invisible Man, Glenn Ligon believes that the search of identity is an ongoing process in the United States, and that the history of Afro-Americans is the record of America. The artist historicizes his context, his language. Everything needs to be seen from the perspective of the past, at the same time you always have to speak to a contemporary crowd. This makes the viewer's position an important aspect in Ligon's work. As Adolf Gottlieb has once suggested that abstraction would be the realism of our time, Ligon is convinced that people will be able to demystify certain facets of his works, understanding his complex structures.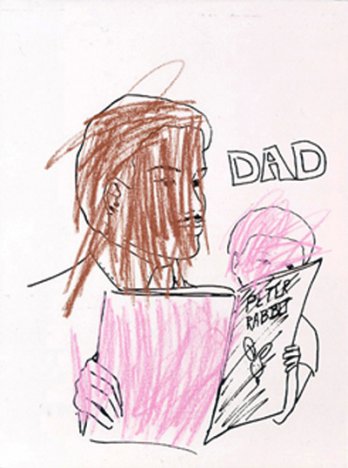 Glenn Ligon_Dad
Ligon cannot be placed in a fixed category, neither his style nor his choice of technique. He chooses whatever method that appears to be the most suitable. The only constant in his work is his own identity, plus the use of letters. The painting I Am a Man strikes by its simplicity and its content. The colour scheme is uniform, two colours collide, black and white, but the sentence does not need any specific adorations. It is a declaration, inspired by a photograph by Earnest C.Whiters, an assertion, both literally as well as figuratively. The force and the power of Ligon's art can be resumed with a quotation from Zora Neal Hurston: "
I feel most coloured when I am thrown against a sharp white background."