Glenn Ligon
I Am A Man
Wayne Baerwaldt + Thelma Golden, February 11, 2008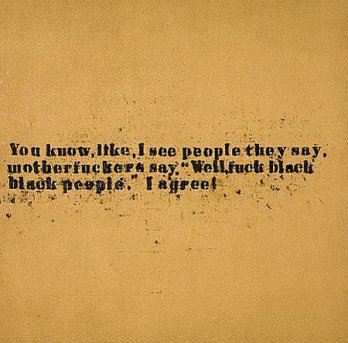 Glenn Ligon_Artwork
Ligon is certainly an intellectual artist, somebody that not only questions himself while creating, but also explores the essence of art itself. Ligon works on various topics, including gender, race and sexuality. Identity can be understood as a leitmotif in his work. Putting not only his own self in the foreground, but raising questions about minorities, like black and gay people, and their representation in art as well as in society. What drives Ligon is the stigmatization of black artists that still happens nowadays. Some art critics talk about Ligon's work as being autobiographic; it is a reflection on himself and his beliefs.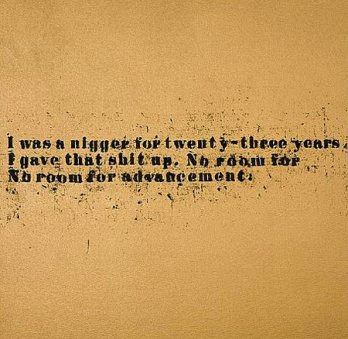 Glenn Ligon_Artwork
He started with abstract painting, following the lines of abstract expressionism. But soon his work became more specific. He started to use text and photos, for example motives of his fellow artist Robert Mapplethorpe. One encounters in Ligon's art the effect of superimposition and intertextuality, a phenomenon that helps him to constantly create something new and unique plus reconsidering already existing, "God given" ideas and associations. Although Ligon declares that he does not precisely look for metaphors, his work is full of them, often related to the search of selfhood. Ligon's artistic influences are various. He cites Andy Warhol, Jaspar Johns, Anselm Kiefer as his inspirations, but maybe even more important then the painters who have preceded him, are the likes of famous black writers, comedians and political activists.
Glenn Ligon_We can't have love...
People like Ralph Ellison, Zora Neal Hurston, Malcolm X and Richard Pryor are quintessential for Ligon. Their ideas, their works, their significance are the foundation of the artist oeuvre. It is through them that he tries to define the boundaries of his own personal identity and the one of black culture, knowing that for being able to describe black culture, he first needs to consider the different manifestations of black art. Ligon tries to build up dialogues through his composition, always finding new opportunities and connotations through the principle of intertextuality. He stresses the visual, supposing that the first boundaries are created by appearance.