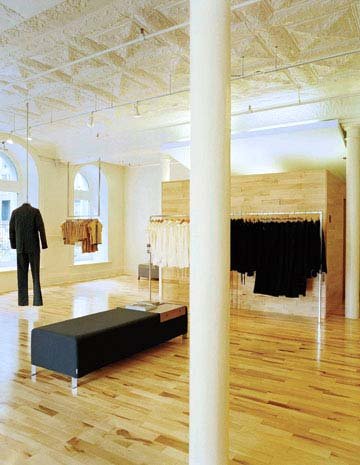 kamkyl
A cosmopolitan touch
Catherine Beaumier Lacroix, June 22, 2006
Since setting up shop in Old Montreal four years ago, kamkyl has become a significant addition to Québec's design scene. Yvonne and Douglas Mandel's efforts have produced a distinctive men's line, interpreted in well crafted classic and modern styles. Created in Montreal, kamkyl designs have a cosmopolitan touch, cut from the best fabrics and materials available – Italian denim, Harris tweed; Bolivian alpaca knits, superior fine cotton, and hemp sneakers with Blackspot soles made from recycled tires.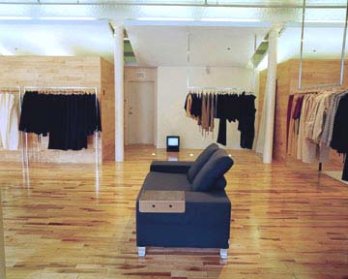 This season, kamkyl drew inspiration from the Irish countryside in signature pieces emphasizing purity of shape, texture, detail and colour. The line includes anthracite tweed jackets and coats with contrasting piping, iridescent autumn-coloured tweed trousers, sweaters with stylishly pleated shoulders, and French-cuffed shirts with discreet cufflinks. One of our favourites: an exquisitely cut khaki military jacket which suits any man, regardless of personal style (or lack thereof). kamkyl's success is based on their ability to update traditional materials while maintaining a classic cut, resulting in a distinguished blend of both modern and timeless..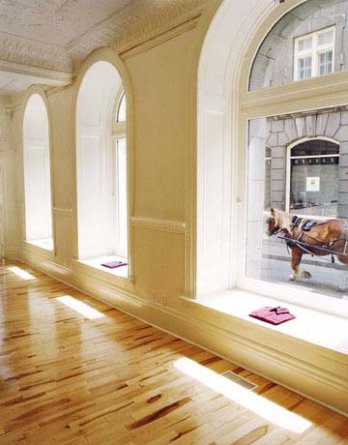 The kamkyl studio-boutique reflects their aesthetic in a relaxing, pared-down space. Production is in-store, too, with the workshop's fabric patterns and cutting tables seemingly suspended above the display floor. Hopefully, you'll drop by when Nicholas, the shop's manager, has a chance to point out what's "you" among the impressive wares at kamkyl.

kamkyl
439, rue Saint-Pierre
Montréal, (Québec), H2Y 2M8
T: 514 281-8221