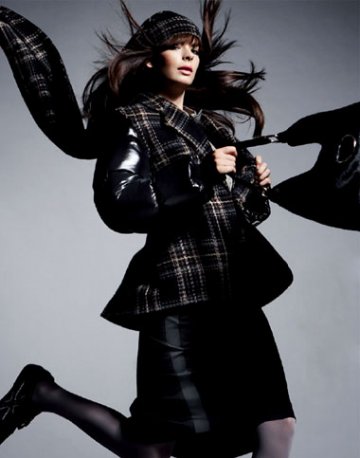 Avant-garde STYLE
Introducing the future of clothing - from liquid-repellent cotton to vitamin-infused pantyhose
Denis Lemieux + Ishi, October 15, 2007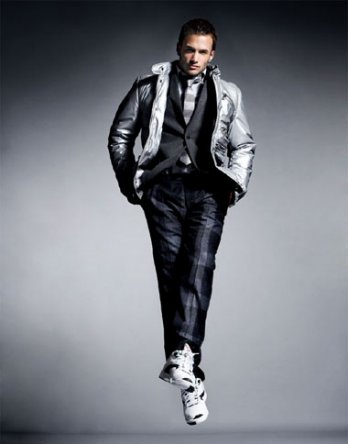 Denis Lemieux + Ishi
No matter where he lands, Peter always hits the ground running in his Pump Paris trainers by Reebok. An air chamber inside the shoe - developed by engineers at NASA and MIT, no less – inflates for a snug fit. Bomber by Dolce & Gabbana, jacket by J.Lindeberg, shirt by Denver Hayes, pants by Hugo by Hugo Boss, tie by Philippe Dubuc and watch by Baume & Mercier.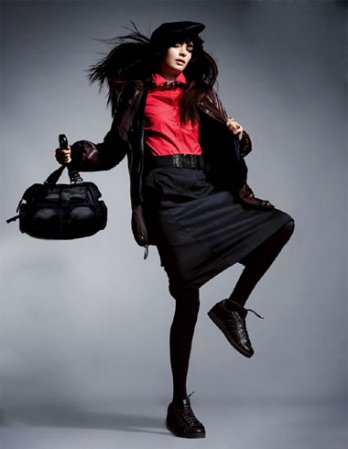 Denis Lemieux + Ishi
Tamara won't cry over spilled milk – or ketchup or cranberry juice - when she's wearing her stain-resistant shirt by Denver Hayes. Liquid-repellent fibres, embedded in the shirt's cotton, act as a barrier between blot and blouse. Trench by Sportmax, windbreaker by G-Star, skirt, beret and belt by Louis Vuitton, tights by Mondor, shoes by Adidas, bag by Nine West, necklace by Calvin Klein and rings by Cinelli & Maillet.