Michel Rojkind
The rocker of mecixan architecture
Bija Gutoff, October 15, 2007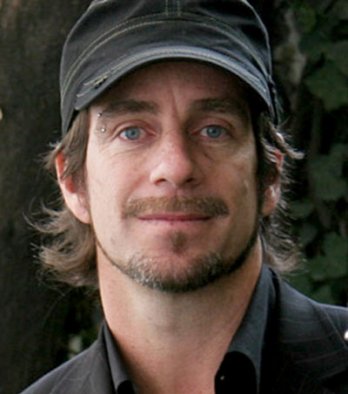 Michel Rojkind
The assignment: to design a nearly three million square foot cultural, educational and commercial center that plays a key role in a long-range plan to boost tourism. The center is to contain a hotel, exhibition spaces, an architecture and design school, concert halls, cinemas, a children's museum, library, offices, restaurants and a mosque. The multi-use venue will occupy a dramatic oceanfront site. Rojkind's design, created on the Mac and presented to the client as a video edited in Final Cut Pro, is both contemporary and subtle. "
I was influenced by the dusky colors of the city, the women in veils, and the whole notion of what lies behind something,
" he says.
"I wanted it to have a homogeneous feel, as if it grew from the desert site."
Michel Rojkind_Ajman Marina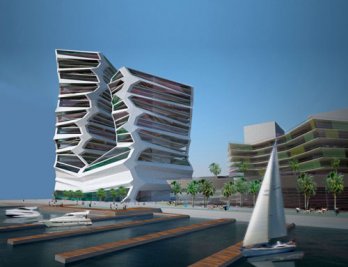 Michel Rojkind_Ajma Marina
His approach divides the center into three organic-looking forms that rise like rocks on the location. "When you talk about a project this huge," says Rojkind, "you imagine that it will have a big-city feel — buildings with flashy skins and colors and topologies."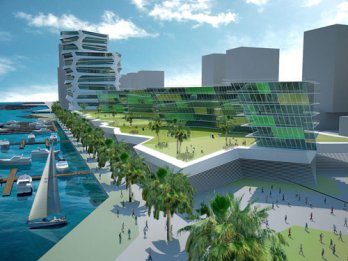 Michel Rojkind_Ajman Marina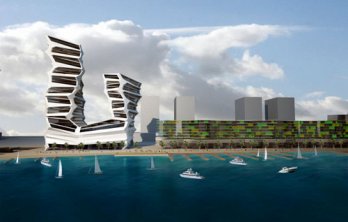 Michel Rojkind_Ajman Marina
But that's not how Rojkind saw it. He lifted his rock-like structures to create shadows on the plazas below, designed thematic bioclimatic courtyards and roof gardens, and enveloped his buildings in airy skins, conceived with contemporary artist Antonio Sánchez. "
Based on Antonio's knowledge of fractal geometry, applied to Islamic motifs, we designed these flowing, translucent, pre-cast concrete forms,
" explains Rojkind.
"They look perforated, and they let in lots of light."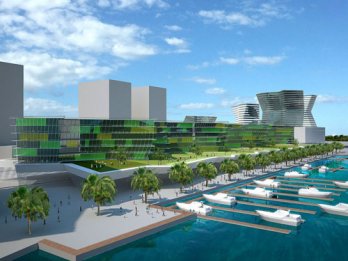 Michel Rojkind_Ajman Marina