Herzog & de Meuron
The duet of sublime and the picturesque one
Philip Ursprung, August 29, 2010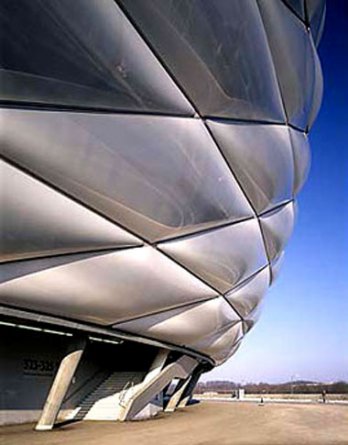 Herzog & De Meuron_Allianz Arena_München
Allianz Arena Stadium - Munich, 2006
It's more than an ordinary sports centre or soccer stadium: Allianz Arena is a fascinating urban icon, both architecture and stage set, capable of transforming the landscape in which it stands.
Munich's Allianz Arena Stadium has a new look thanks to a restyling project by two Swiss architects, Herzog & de Meuron, who also designed
Beijing's Olympic Stadium
for the 2008 Olympics. What makes the new stadium truly spectacular is its "skin": an ever-changing covering made up of about 3000 panels of polytetrafluoroethylene, which change colour at different times of day and for different sports events. The pearly white visible by day may be lit up at night or be transformed into red or blue to match the colours of the teams playing in the stadium. The "cushions" on the Allianz Arena are made up of two sheets of EFTE (Ethylene Tetra Fluor Ethylene), an undeformable, strong, 100% recyclable material.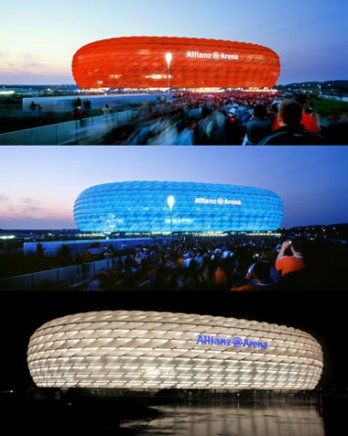 Herzog & De Meuron_Allianz Arena_München
The unusual lighting is made possible by a system of electronically powered fluorescent bulbs. The big ring measuring 840 metres in diameter contains 66 thousand seats and is completed by an evocative crater-like structure. This ring is the most interesting thing about the project, a true landmark made of light that has become a tourist attraction in itself. The stadium has 3 orders of stands, made of reinforced concrete, so that their heaviness contrasts with the stadium's lightweight covering. In actual fact the composition of the façade is very similar to that of the roof; its surface is also made up of rhomboid panels measuring 6 to 8 metres long and formed of two membranes. In the roof both of these are clear, while in the façade one of them is white and the other transparent.
The result is an effect of continuity and great harmony, in a project in which unity does not become monolithic thanks to the changing colours and lights. The lightness of the Allianz Arena is further emphasised by its detachment from the ground. It is about 4 metres above the level of the plaza, giving it the vibrant feel of a "suspended" building. This is a building that refuses to be just a container, but is in itself a form of entertainment, a show.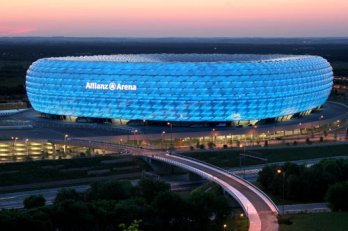 Herzog & De Meuron_Allianz Arena_München