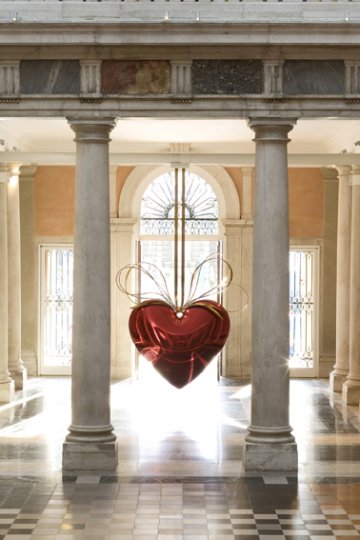 Palazzo Grassi

Where are we going?

Veronica Redgrave, June 22, 2006

Outside the beautiful 18th century Palazzo Grassi on the Grand Canal of Venice sits an enormous bright purple inflatable dog. It's a sculpture entitled "Balloon Dog – Magenta," created by famed artist Jeff Koons. Inside the palazzo's gallery is Koon's "Hanging Heart" one of the centerpieces of an art collection belonging to François Pinault, the billionaire Frenchman who owns 80% of the Grassi.

The wealthiest art collector in France, Pinault is a luxury goods magnate by day, as owner of Christie's, the Gucci Group (Yves Saint Laurent, Bottega Veneta, Alexander McQueen, Balenciaga) and Fnac. He is currently showing a selection from his personal art collection in the renovated Palazzo, former home to car-maker Fiat.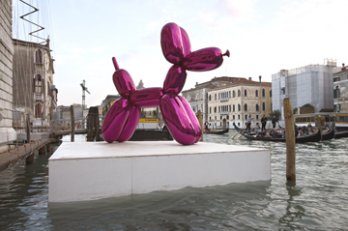 Jeff Koons - « Balloon Dog - Magenta »
For the exhibit, he hired Japanese architect Tadao Ando, who installed removable partitions, creating an all-white gallery, and giving each artist a self-contained space. The exhibition, organized by Alison Gingeras, Adjunct Curator for the Guggenheim Museum, has put 200 of Pinault's 2,000 works on display. The director of the new Palazzo gallery is Jean-Jacques Aillagon, former French Minister of Culture and head of the Georges Pompidou Centre in Paris.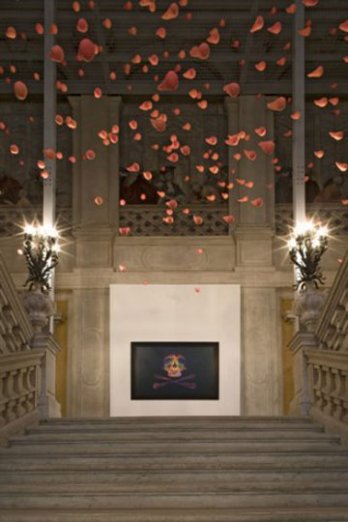 Urs Fischer
The title of the inaugural exhibition, "Where Are We Going?" is taken from a piece by Damien Hirst, which in turn came from a Gauguin painting. Hirst's own piece "Where are we Going? Where do we Come From? Is there a Reason?" is on display, as well as two large cows, sub-sectioned and preserved in formaldehyde. The exhibition presents an impressive chronological array of works by artists including Mark Rothko, Cindy Sherman, Richard Serra, Donald Judd, Dan Flavin, Cy Twombly and Jeff Koons. Pinault will also be holding exhibitions at the Punta della Dogana, the historic former customs house of Venice, at the mouth of the Grand Canal, while the Palazzo Grassi will hold rotating exhibitions. Apart from the buzz about this fabulous opening show, much of the chatter in Venice was about the stars. Selma Hayek, Christine Scott Thomas and others, arrived for the black tie dinner hosted by Pinault in the Arsenale, site of the Venice Biennial.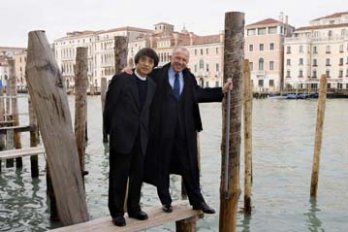 Tadao Ando & F. Pineault
The Palazzo Grassi exhibit runs until October 1, 2006
10am to 1pm daily
Vaporetto station: San Samuele.