Esthétique Domestique
Household appliances then and now
Bernadette Deloose, August 6, 2007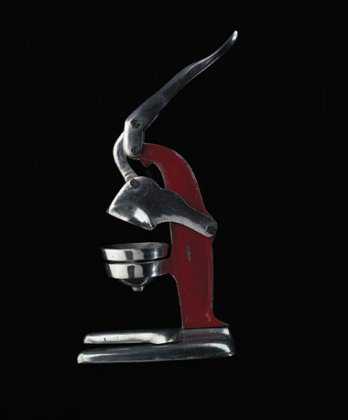 Lemon squeezer_Alpro SA, 1940_USA_Christophe Fillioux_SUMO
If you were to look up the meaning of clothing iron, vacuum cleaner, coffee machine, ventilator and blender in the dictionary, you would read the following. A coffee machine is an electrical appliance for making coffee and keeping it warm; a clothing iron is a metal object with a handle, which is heated for ironing laundry; a blender is a device used for mixing ingredients; a vacuum cleaner is an electrical appliance for suctioning off dust and a ventilator is a device which refreshes a room by creating a current of air.
It is striking how all of the above descriptions place the emphasis squarely on function. Naturally, function is of great importance. A vacuum cleaner which does not clean, a blender which does not blend and a ventilator which does not ventilate are all useless items by definition.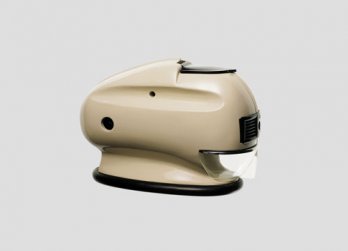 Electric coffe mill Elenova_KYM (Iserlohn), 1952_Germany_Christophe Fillioux_SUMO
With the introduction of techniques of mass production in the manufacturing of household appliances during the second half of the 19th century, traditional shapes were modified and new ones were invented. Design was still a matter of minor importance. Most of all, household appliances needed to be easy to use. In the course of the 20th century, the importance of attractive design increased, and designers were becoming more and more involved in the design process. Sound function alone was no longer enough, objects needed to be pleasing to the eye as well. Product development was no longer a haphazard affair, it was driven by a vision and preceded by research.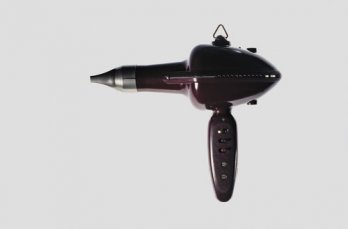 Hair drier_Fortex-John A. Frasen limited, 1950_UK_Christophe Fillioux_SUMO