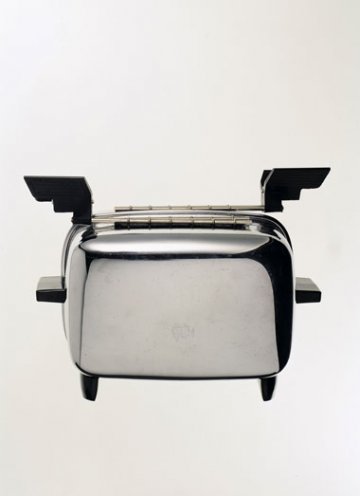 Esthétique Domestique
Household appliances then and now
Bernadette Deloose, August 6, 2007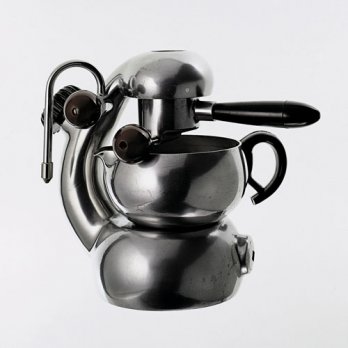 Coffee-maker_Atomic (Milaan)_Novate Milanese works Design_Christophe Fillioux_Sumo
In a time when deco design is soaring and when costly, limited-edition design is starting to look more and more like art, it pays to take a moment and look back to a time when design first and foremost strove for usefulness and reticence. Not a subject of fashion and speculation, but an object of general use.
Washing dishes, blow-drying hair, vacuuming, ... Since time immemorial, these tasks have never been considered "noble", and the implements used for accomplishing them were thought of as unworthy of "public" display in venues such as museums. The kitchen and bathroom are the places where these functional objects come into their own, places which are devoted to worshiping the body. The kitchen is where food is stored, prepared and often consumed. It is of vital importance to feed oneself. The actions connected with it are mostly undertaken as a family. The bathroom is where one washes, grooms and dresses oneself. These actions are usually undertaken by oneself. In the twentieth century, these two rooms of the house were the exclusive territory of the lady of the house. This is why all advertising for new household appliances was aimed towards women. The genius of industrial design was to always be on the cutting edge of two inherently contradictory requirements: desire and necessity. These objects are unbiased witnesses, often to our mistakes, sometimes to our triumphs". Jean Bernard Hebey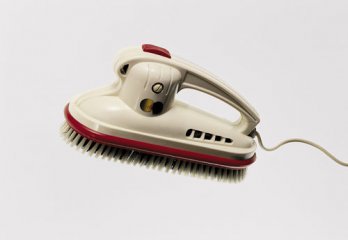 Electric brush_Eldem, 1957_Christophe Fillioux_SUMO
Today, homemaking tasks could no longer be imagined without the necessary appliances which meet our needs and desires. The kitchen and bathroom is where we find an abundance of handy, yet often inconspicuously designed electrical appliances.