Frida Kahlo & Diego Rivera...
Passion, Politics and Painting
H.H., April 9, 2012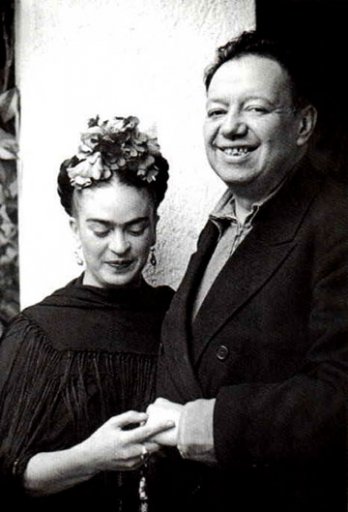 Frida Kahlo and Diego Rivera, 1940
While the 1940s had seen her produce some of her finest work, her paintings now became more clumsy and chaotic, thanks to the joint effects of pain, drugs and drink. Despite this, in 1954 she was offered her first solo show in Mexico itself - which was to be the only such show held in her own lifetime. It took place at the fashionable Galeria de Arte Contemporaneo in the Zona Rosa of Mexico City. At first it seemed that Kahlo would be too ill to attend, but she sent her richly decorated fourposter bed ahead of her, arrived by ambulance, and was carried into the gallery on a stretcher. The private view was a triumphal occasion. In the same year, Kahlo, threatened by gangrene, had her right leg amputated below the knee. It was a tremendous blow to someone who had invested so much in the elaboration of her own self image. She learned to walk again with an artificial limb, and even (briefly and with the help of pain-killing drugs) danced at celebrations with friends. But the end was close. In July 1954, she made her last public appearance, when she participated in a Communist demonstration against the overthrow of the left-wing Guatemalan president Jacobo Arbenz. Soon afterwards, she died in her sleep, apparently as the result of an embolism, though there was a suspicion among those close to her that she had found a way to commit suicide. Her last diary entry read: 'I hope the end is joyful - and I hope never to come back - Frida.'"

For more, read Frida: The Biography of Frida Kahlo, by Hayden Herrera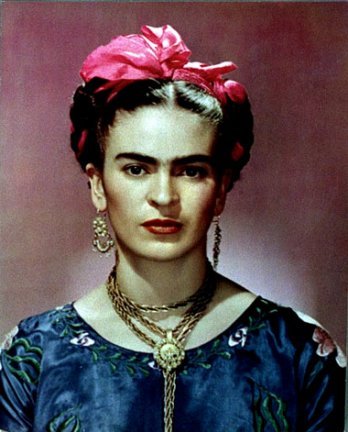 Frida Kahlo by Nicolas Muray, 1944_Mexico
www.ago.net