Eva Harlou
Twenty things you should know about Eva Harlou...
Nargisse Rafik, July 9, 2007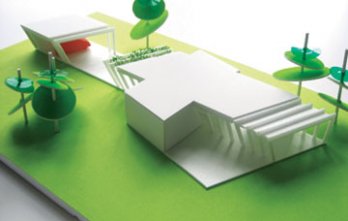 Eva Harlou_Frame House_01
E.D.: Which artist / architect / designer do you admire most?
E.H.: I admire Le Corbusier's work and methods very much. The simple beauty and functionality of his buildings shows his outspoken talent. Even though her architectural language is very different from my own I admire Zaha Hadid very much. And I like that she has a recognizable architectural language.
E.D.: What is your favourite example of the use of light in architecture?
E.H. : Notre-Dame du Haut, Ronchamp, church by Le Corbusier. The daylight penetrates through small window holes and gives the church a breathtaking atmosphere. Times Square, New York - I'm fascinated by many artificial neon lights in one place.
E.D.: Your favourite materials in architecture, and why?
E.H.: Glass brings daylight and weather into the building. Glass makes a building shine at night. Glass is viewing the outdoor together with the indoor. Using glass in architecture is an exiting challenge - you should not use too much and where you choose to place the glass is very important - not only to the beauty of the house but also to the beauty of the life that has to take place in the house.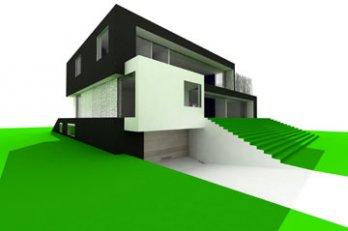 Eva Harlou_Z-House_North
E.D.: Can you describe the evolution of your work from your first projects to the present day?
E.H.: My earlier work was more complicated. Now my design is much more simple and I rely much more on my intuition when I make architecture.
E.D.: What is your dream project?
E.H.: Designer-hotels, top class family housing, international airports.
Bottom line - many projects have the potential of making my dreams come true, and I'm looking forward to all future challenges as a small-scale-designer and XXL-scale-architect.
E.D.: What is your favourite building (in Danemark or in other cities)?
E.H.: My favourite building in Denmark is the Danish National Bank in Copenhagen by Danish architect Arne Jacobsen.
E.D.: What building would you never design, and why?
E.H.: I would never design a building that contradicts my political and religious conviction
E.D.: What means for you the word ecology?
E.H.: I find ecology very important. We have to take care of our environment. New ecological materials and production methods are very interesting and I would like to make more ecological buildings.
E.D.: What do you hope your current work will bring to people?
E.H.: I hope that I'll be able to make more people enjoy great architecture.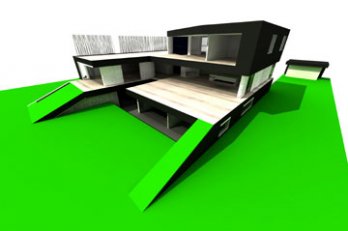 Eva Harlou_Z-House_South
E.D.: And chic, what do you feel it is?
E.H.: Chic is when a building stands out very clearly in simple elegance.
E.D.: What are currently your favourite brands or objects, and why?
E.H.: My favourite object is my black Moleskine notebook. It follows me where ever I go and it contains all my ideas and work-related thoughts.
E.D.: Which city resembles you the most, and why?
E.H.: Even though I'm Danish I think Paris resembles me the most. The city has a durability of noisy mess and quiet elegance, high-tech living and strong tradition. That's the way I am.
E.D.: What invention would best improve your life?
E.H.: I don't like the combination of stress and waiting hours at airports - so an invention making it possible to get from one country to another in no time - would definitely make me happy.
E.D.: What couldn't you live without?
E.H.: Besides family and friends I couldn't live without my work. I make no distinction between work- and spare time and I "think and live as an architect".
E.D.: Finally, which 20th century architects/designers would you invite to a dream dinner?
E.H. : Le Corbusier, Verner Panton, Arne Jacobsen, Alvar Aalto and Philip Starck.