Eva Harlou
Twenty things you should know about Eva Harlou...
Nargisse Rafik, July 9, 2007
Eva Harlou_Star House
E.D.: How would you explain architecture?
E.H.: Architecture is handcraft. Architecture is art. Most of all architecture is framing human life. With architecture comes a great responsibility of trying to understand the human nature.
E.D.: Is there a philosophy behind your work?
E.H.: I'm convinced that architecture has to be functional, durable and beautiful. Furthermore it's very important to me that my architecture reveals a clear and understandable concept – tells a simple story. I don't believe that "less is more", but I enjoy when simple and beautiful geometrical shapes solve all challenges in a project. Architecture doesn't have to be difficult and I don't think that innovative architecture has to look like something exploded.
E.D.: What do you consider your influences, what inspires you?
E.H.: I'm influenced by both past and present architecture - the modernism's architecture is a constant inspiration in my unconscious mind and I adsorb all new trends from contemporary architecture – newly built projects, projects published in magazines and books. I get very inspired while playing and experimenting with simple classical and geometrical shapes. I enjoy the discovery of new shapes and great spatial qualities - just by giving the well-known shape the right twist.
Most of all I find the inspiration in the daily work on a specific project - listing to the clients needs, studying the site, discussing constructions with engineers etc. I'm strongly convinced that architecture is nothing, if not only aesthetics but also functionality and durability is equally present.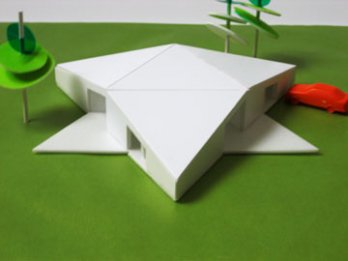 Eva Harlou_Star House
E.D.: Tell us more about The Z-House, Moon-House projects, and your last creation / works?
E.H. : Z-House
Description: Family housing
The 700 sqm house, located by the eastern coastline of Jutland, Denmark, is designed to enhance the great view towards the sea. The minimalistic Z-shape of the house includes 3 floor-plans and creates outdoor terraces in different levels. Ramps lead from the surrounding garden to the indoor areas. The basement includes a large indoor swimmingpool with direct access to the garden and in the central part of the house a large water-wall underlines a 3 floor high entrance-hall creating a vertical connection through the house.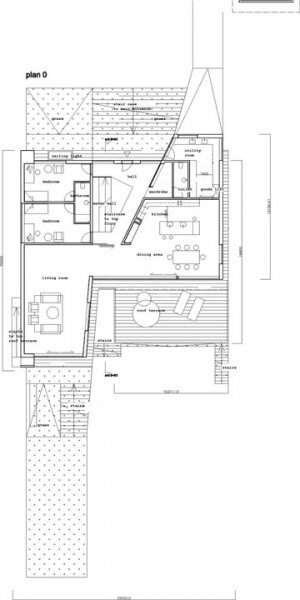 Eva Harlou_Z House_Floorplan
Star House
Description: Family housing / holiday housing
Being shaped like a star the house is a great icon and it is very easy to recognize. The triangled floorplan of the house is very simple and understandable and yet the house is designed to have several spatial qualities. In the middle of the house there is a large livingroom witn celing light and with great views to the outside areas in all directions. The smaller and more intimate private rooms, bathrooms, storage rooms etc. are located in the perimeter of the house. The simple shape of the house makes it easy to fitt into almost every building site.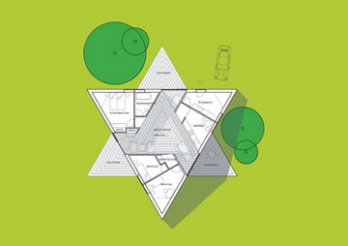 Eva Harlou_Star House_Floorplan
Frame House
Description : Family housing / holiday housing
The house, located by the eastern coastline of Jutland, Denmark, is designed as a summer residence for a Danish married couple. The cross-shape layout creates four "wings". In the wings all bedrooms and livingrooms are located with easy access to the surrounding outdoor terraces and nature. The floorplan creates a central and easy accessible area containing storage, bathrooms and kitchen. The idea is to create a simple and understandable design - and yet - by pulling the shape a bit in plan and section - creating a special architectural appearance. As an example both exterior and interior reveals a unique sloping wall. The visible wooden frame construction of the house also contributes to a unique appearance as well as the facades covered with cor-ten steel.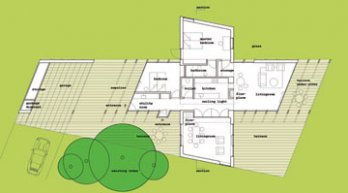 Eva Harlou_Frame House_Floorplan