Tomorrow Now
When design meets science fiction
Alexandra Midal + Björn Dahlström, December 24, 2007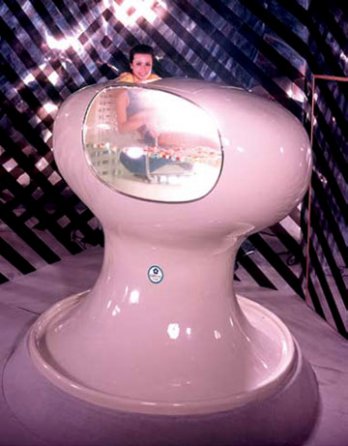 Sanyo Electric Co. Ltd._Ultrasonic bath_Osaka
The body: Totalitarian tendencies
In works such as Brave New World by Aldous Huxley or 1984 by George Orwell, science fiction authors point out totalitarian tendencies that are latent in contemporary democratic principles. When concerned with the body, these warnings concentrate on procreation, cloning, the revising of the laws of eugenics or a number of constraints that could redefine the human being. Manufacturing Human Cyborgs and the Erotic Museum of science fiction denounce the danger of thinking of the body in terms of a single technology, as if it were an instrument or an object rather than a living being. It was conceived in 1981 by Masata Matsuno as a hihokan ("sex museum" in Japanese, a word that literally means "the house of hidden treasures").
This diorama was presented at the 2004 Yokohama Biennial of Contemporary Art by the artist Kyoichi Tsuzuki (*1956, Japan) under the name of SpermPalace. It is a vertical tableau composed of mannequins, models and other objects and the installation presents (across several such tableaux) a history of science fiction which places extraterrestrial eugenics at the centre of the story. Having been kidnapped by extraterrestrials, badly treated Earthlings serve as sex slaves ready to gratify the desires of extraterrestrials. These crude scenes play around with clichés of representation in science fiction. Black and silver instrument panels, helmets with antennae and figure-hugging clothes all lend the central scene a laboratory-spaceship dimension that questions the consequences of technology. Certain scenes may shock sensitive persons. This exhibit is forbidden to minors.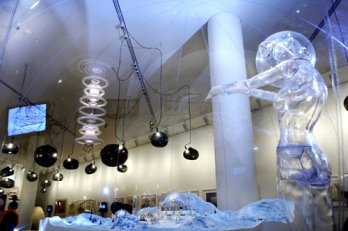 André Courrèges_La Cité de Lumières, 1967-2000_Andres Lejona
With treatments for eternal youth, the ingestion of drugs and remedies, placebos, elixirs, sprays and ionisations, the imaginary psycho-pharmacy (so dear to Gernsback who liked to imagine industrially preserved happiness) finds in design the necessary mediation for reinvigorated mental space Architecture Pill is a project by the Austrian architect Hans Hollein (*1934) that serves the production of environments modified by homeostasis (the stabilisation of living organisms with different physiological constants). His "architecture pill" ironically creates a healthy balance between the environment and its occupant. This kit for controlling the non-physical environment, to use the words of its author, is a simple coloured pill in a transparent wrapper that eliminates design because controlling the environment can be done thanks to chemistry and medicine.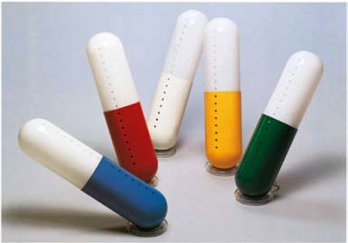 Cesare Casati and Emmanuelle C. Ponzio_Pillola, 1968_Philippe Decelle