Tomorrow Now
When design meets science fiction
Alexandra Midal + Björn Dahlström, December 24, 2007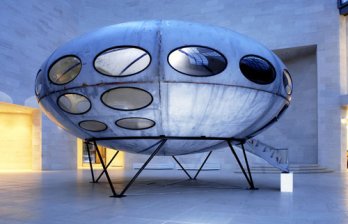 Matti Suuronen_Futuro home, 1968-1969_Andres Lejona
Richard Buckminster Fuller (United States, 1895-1983) opened the field of anticipation to the environment, convinced that the way in which the world organised its human and material resources should be reconsidered. In 1928 he conceived the Dymaxion House, a dwelling capsule envisaged as a portable temporary space to rent rather than a private property. Even if Buckminster Fuller's projects remained utopian, they provided the basis for the subsequent radical questioning of architecture by Archigram, Haus-Rucker-Co and Superstudio. The inventiveness of these individual visions found its counterpart in the world of industrial production. The success of the Streamline movement (which was at its height in the 1930s and 1940s) and the scale of the Futurama shows that futurist forms were being introduced in private, public and urban space. By becoming closely involved in the increasingly complex relationship between human beings and technology, design became a form of mass communication.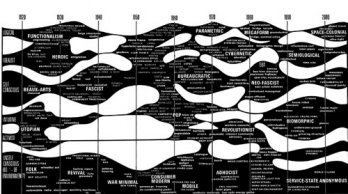 Charles Jencks_Evolutionary tree to the year 2000, 1969
Numerous science fiction writers have imagined the future by borrowing from the field of prediction. In the same spirit, as a part of his book Architecture 2000, the American architect Charles Jencks (*1939) presented a large table, The Evolutionary Tree in 1969. It lays out six hypotheses about what the world of tomorrow will be like by examining the political impulses behind six architectural traditions. These predictions go up to the present decade and are thus verifiable today.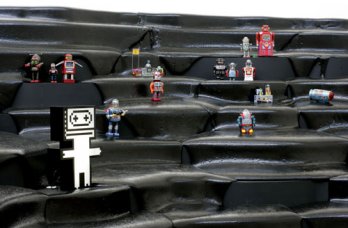 M/M-Robots, The Agent, 2006_Haunch of version Gallery and The Artists_Jens Ziehe