Tomorrow Now
When design meets science fiction
Alexandra Midal + Björn Dahlström, December 24, 2007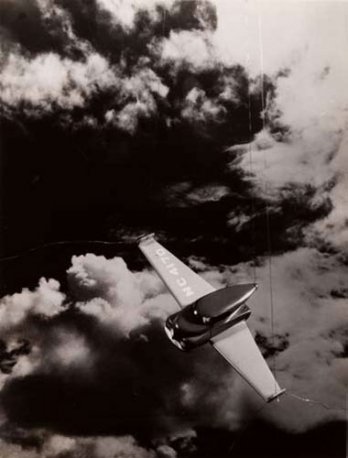 Norman Bel Geddes_Flying Car, 1945
Capsules: the atom
The capsule as an inhabitable entity with a rounded and autonomous form belongs to the history of shapes. But, in the 1950s, these forms were chosen to extol the energy of the atom as a beneficial energetic and "vital form" - but one which was also deadly. The designer Joe Colombo (1914-1978, Italy), who was then a member of the Movimento d'Arte Nucleare, depicted a self-regenerating world without recourse to an exterior source. This tendency takes on a new meaning in the Città Futuribile (City of the Future), a drawing dating from his architectural studies at the Milan Politecnico, on which he wrote in pencil "Sfera = Forma Perfetta" (The sphere = a perfect form). Colombo drew a sun beaming down on a city and insists on the complete revolution of the sphere by adding arrows in the direction of the rotation of the sun. The movement of the lifegenerating sun and the rotation of the Earth underlines the importance of movement. With this project on paper, Colombo means to show how important it is to adopt a dynamic representation that corresponds to the vital and autonomous energy of life. The central idea in Colombo's aesthetic conception concerns the rotation of the sphere rather than the sphere itself (considered as a support for the movement). Following the example of the revolution of the Earth around the sun, it echoes that perfect form, the Città nucleare, which recalls the movement of the universe and is opposed to the orthogonal aesthetic of the moderns.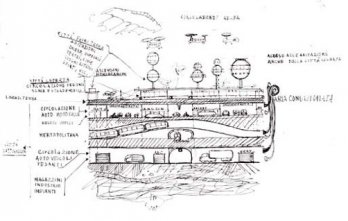 Joe Colombo_Città Nucleare, 1952
As a counterpoint to interstellar voyages and the conquest of space at the end of the Sixties, the interior voyage comes from the "Existenzmaximum", a term made explicit by the designer Alessandro Mendini (*1931 , Italy) and subsequently taken up by Paula Antonelli, curator of the MoMA design department. "Existenzmaximum" defines an immaterial space which, starting with a simple mechanism, allows the senses and the mind to roam free. Domestic space is no longer physical but becomes mental instead. Based on anti-technological and individual practice, the objects that refer to it in the exhibition are the supports for an imagination that stands in for reality and for the environment and objects. The Mindexpander by Haus-Rucker-Co. (an Austrian collective, 1867-1983) allows an individual perception of the interior world. This plastic chair is mounted with a helmet and brings together two interlinked people in order to share their thoughts and multiply their field of consciousness.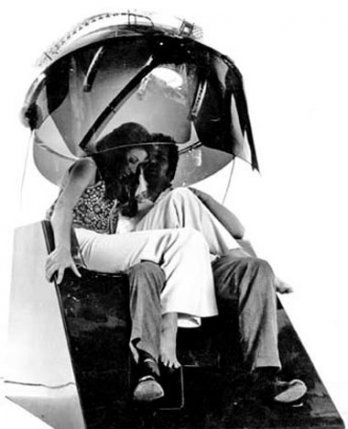 Haus-Rucker-Co_Mindexpander II, 1967_Zamp Kelp_Berlin